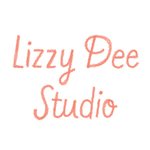 Lizzy is a designer, illustrator, and author from New Jersey. She is currently a children's book & kit designer who wants to bring smiles and laughter to people everywhere! Lizzy is also an avid collector of oddities & antiques, a WFMU fanatic, and you'll never see her without tea in hand. You can see more of her work here: www.LizzyDeeStudio.com @LizzyDeeStudio www.facebook.com/LizzyDeeStudio joined Society6 on April 17, 2012
More
Lizzy is a designer, illustrator, and author from New Jersey. She is currently a children's book & kit designer who wants to bring smiles and laughter to people everywhere! Lizzy is also an avid collector of oddities & antiques, a WFMU fanatic, and you'll never see her without tea in hand.
You can see more of her work here:
www.LizzyDeeStudio.com
@LizzyDeeStudio
www.facebook.com/LizzyDeeStudio
joined Society6 on April 17, 2012.