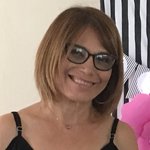 Elizabeth Claire Studio
I have loved the process of creating since I was a child. My mom and my aunt taught me crochet when I was nine. Later I learned sewing, needlepoint,embroidery, papier mache, glass work, ceramics and recently painting and collage. I began my journey in the art business in 1996 after a ceramic workshop. From that moment my imagination began to fly. I learned in that workshop that I could transform that clay in almost anything I wanted. I started with some butterflies (still making them), photo frames and welcome plates. I took some of those to a lovely store in my home town and I started selling right there. After that experience, my life made a huge turn. From an Industrial Engineer and professor of management to a creative life in ceramics. My work in ceramic is hand built with clay slabs, fired to a very high temperature, painted with slips, stains,under glazes and glazes and fired again to a very high temperature.
After 12 years in ceramics i gave a try on mixed media in 2009 and I it was "love at first sight"(or first try?). I spend most of my time creating art (in my mind) and drawing icons that can inspired my work in ceramic and mixed media. I love creating mixed media art using collage and journalism with papers painted and design by me. Adding meaningful details to my collages is my passion. I have added my new found passion for surface pattern to my mixed media, too. I draw icons and paint them to be used as a pattern or a detail to my mixed media. I find great pleasure in adding ceramic details to my mixed media work, too. You will find a tiny flower, a heart, a leave or a word in almost all my mixed media art and in the ceramic art, too. This is the way I express my feelings and my desire to inspire others to live a lovely life and enjoy the process. I love to make people smile with my art, this is a mission I have embraced since I learned it from a client a long time ago. My mission..."make art that makes you smile and feel inspire to live a peaceful and lovely life "enjoying the ride...through this amazing life".
I love the idea that my art is around the world since it is sold in very important stores in Puerto Rico where tourists buy. If you come to Puerto Rico you could find my art in the Old San Juan at Puerto Rico Arts & Crafts Store in Fortaleza Street. If you get to visit the Museum of Art of Puerto Rico, go and visit the lovely store which sell art from amazing artists living in Puerto Rico as well as mine. I know you will enjoy that visit a lot.
My designs are always inspired by a truly passion for nature and family life. My creations adorned many homes in Puerto Rico and around the world in countries such as Argentina, Brazil, Costa Rica, United States, Hungary, India, Italy, among others. I have a very big family with seven sisters and five brothers and so blessed with three sons, Gabriel, Cristian,and Víctor André; a lovely grandson, Javier André; two great daughters in law, Anyelis and Sheynel and the cutest baby grandaughter, Aliany Gabriela. They are my most valuable treasure!
Thanks for visiting and "Enjoy the Ride"
Read more