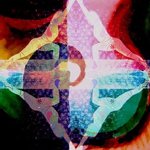 I came to art through Yoga. Yoga helped me to get to know myself. I created embroidered tapestries when I was in high school and then wanted to learn more. How to draw, paint, etc. So I decided to study art in college and went on to receive an M.F.A. in Fibers from Tyler School of Art in Philadelphia. Now I teach High School Art, Fibers and AP Art ,and while doing that I feel it is important to be versatile so that I can share methods and techniques with my students. As far as my own work goes, I love stitching and through the use of line and repetition I seek to capture and express the energy and movement of life. I enjoy the transarency captured by mixing media; paint, thread, paper, collage, fabric and digital media. Visit my gallery at: elizabethvitaleart.wordpress.com My patterns are available to purchase on fabric at: http://www.spoonflower.com/profiles/elizabethvitale Visit my Website: http://www.ElizabethVitaledesign.com joined Society6 on July 25, 2011
More
I came to art through Yoga. Yoga helped me to get to know myself. I created embroidered tapestries when I was in high school and then wanted to learn more. How to draw, paint, etc. So I decided to study art in college and went on to receive an M.F.A. in Fibers from Tyler School of Art in Philadelphia.
Now I teach High School Art, Fibers and AP Art ,and while doing that I feel it is important to be versatile so that I can share methods and techniques with my students.
As far as my own work goes, I love stitching and through the use of line and repetition I seek to capture and express the energy and movement of life. I enjoy the transarency captured by mixing media; paint, thread, paper, collage, fabric and digital media.
Visit my gallery at: elizabethvitaleart.wordpress.com
My patterns are available to purchase on fabric at: http://www.spoonflower.com/profiles/elizabethvitale
Visit my Website:
http://www.ElizabethVitaledesign.com
joined Society6 on July 25, 2011.