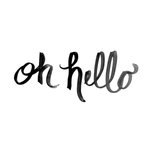 My name is Emily Jankov, I am a graphic designer / illustrator / lover of all things creative... I went to Houghton College and received a BA in graphic design and drawing. I worked as a graphic designer for a design and marketing firm in Buffalo NY for 5 years before i decided to take a job in Nashville TN for a stationery design company. My life then moved me to Cleveland, OH where I now live and work. I currently work for a large greeting card company as a line designer/planner, and I absolutely love my job! I have been working as a graphic designer for over 8 years. I also worked as a freelance designer creating stationery, corporate identities, greeting cards, journals, t-shirts, tote bags etc. I have had a great time developing my skill not only as a graphic designer but also as an illustrator/painter! Art has always been a strong passion of mine, even as a child! Other things that I love dearly include my husband Eric, my cat Daisy-Duke, singing, running and baking! Fun Fact: in 2012 I was the bake-off champion at my office! I am available for custom work, I love freelance and would be happy to chat with you more about your needs! Hopefully we can cook something great up together! joined Society6 on May 21, 2013
More
My name is Emily Jankov, I am a graphic designer / illustrator / lover of all things creative...
I went to Houghton College and received a BA in graphic design and drawing. I worked as a graphic designer for a design and marketing firm in Buffalo NY for 5 years before i decided to take a job in Nashville TN for a stationery design company. My life then moved me to Cleveland, OH where I now live and work. I currently work for a large greeting card company as a line designer/planner, and I absolutely love my job! I have been working as a graphic designer for over 8 years. I also worked as a freelance designer creating stationery, corporate identities, greeting cards, journals, t-shirts, tote bags etc. I have had a great time developing my skill not only as a graphic designer but also as an illustrator/painter! Art has always been a strong passion of mine, even as a child!
Other things that I love dearly include my husband Eric, my cat Daisy-Duke, singing, running and baking! Fun Fact: in 2012 I was the bake-off champion at my office!
I am available for custom work, I love freelance and would be happy to chat with you more about your needs! Hopefully we can cook something great up together!
joined Society6 on May 21, 2013.