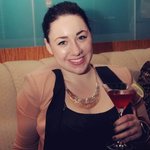 Scene by Emily
I've been snapping pics since I was 16 and have no plans of slowing down anytime soon. My travels have taken me around the world from Australia, to India, to China and all over North America and right along side me I've always kept my trusty Canon 60D. These are some of my photos, a small collection that I'm happy to share and hope you enjoy. Best, Emily Feel free to contact me at: emilymiller386@gmail.com Scene by Emily joined Society6 on January 22, 2012
More
I've been snapping pics since I was 16 and have no plans of slowing down anytime soon. My travels have taken me around the world from Australia, to India, to China and all over North America and right along side me I've always kept my trusty Canon 60D.
These are some of my photos, a small collection that I'm happy to share and hope you enjoy.
Best,
Emily
Feel free to contact me at: emilymiller386@gmail.com
Scene by Emily joined Society6 on January 22, 2012.
Paris Mcv_Print by Scene by Emily
96 results
Filter