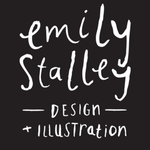 I am a freelance designer and illustrator and I am passionate about producing images which excite and entertain people .I love using colour, texture and mixed media to create diverse images, evoking emotions and depicting exciting interpretations of different moods, stories and characters. I enjoy working in watercolour, Indian ink and adding scanned in textures with Photoshop to my images. I also have a keen interest in writing and illustrating children's books, having written and illustrated two of my own stories. Please visit my website for my online portfolio: www.emilystalley.tumblr.com and do not hesitate to get in touch with me if you'd like to commission me for any work, projects or collaborations. joined Society6 on August 23, 2012
More
I am a freelance designer and illustrator and I am passionate about producing images which excite and entertain people .I love using colour, texture and mixed media to create diverse images, evoking emotions and depicting exciting interpretations of different moods, stories and characters. I enjoy working in watercolour, Indian ink and adding scanned in textures with Photoshop to my images. I also have a keen interest in writing and illustrating children's books, having written and illustrated two of my own stories.
Please visit my website for my online portfolio: www.emilystalley.tumblr.com and do not hesitate to get in touch with me if you'd like to commission me for any work, projects or collaborations.
joined Society6 on August 23, 2012.