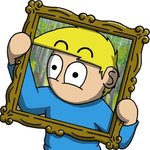 Eric Lernould
So ...you want to buy stuff from me ...cool prints and shirts and hoodies and tote bags and phone cases and pillows and cards and mugs and stuff. WELL, let me tell you! ...it's a really simple and affordable thing to do ...and you should definitely do it ...and get your friends to do it ...and get their friends to do it too.
My name's Eric Lernould, You may know me from: Fadinglightpro.webs.com, Shiftypro.com, Shiftygamers.com, TheMindofEric.com, FastForward.com, TAFAC.net, WeirdBomb.com, or SketchyAntics.com …or from real life …or maybe you don't know me at all. Whatever your level of knowing me, I'm Eric and this is where you can buy things I've designed.
Many of the things you see in this shop come from webcomics that I have done over the years. My most recent comic (and the comic you can buy most of the prints from here) is SketchyAntics.com, a day-to-day comic about my life. However, some things may relate back to some of my first ever comics ...like ...back when I was 8. But, whenever they were created, these awesomely-amazingly-cool-things can be yours!
Feel free to brows the shop and make as many purchases as you'd like! ...seriously, the more things you buy the happier you will make me ...honestly and truly ...very very happy ...
...Okay, stop reading, go buy stuff! =)
Read more