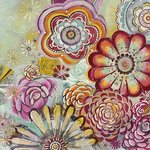 Erica Steiner
My paintings explore the idea that the basic human drive to ornament the material world is fundamentally innate, irresistible, and at its core, motivated by deeper impulses to understand the meaning of life and to experience a universal, elemental or essential reality. I use painting as a vehicle to engage with the act of ornamentation as a disciplined and sustained practice, and as a means of dialoging with fine art, folk art and craft traditions that for centuries have sought to interpret nature through a lens of careful and ornate pattern work, ultimately echoing the cellular patterns that constitute all matter. Incorporating elements of landscape, textile design and abstraction, my paintings employ a highly detailed visual language drawn from a wide and continually evolving range of influences, including traditional Indian and Aboriginal painting, psychedelic art, graphic design, Japanese landscape painting, medieval Catholic illuminated manuscripts, mid-century modernism and Victorian imagery. The work is rendered in oil and gold leaf on canvas, in series of twenty to thirty paintings, painted in many layers, over time. www.ericasteiner.com Erica Steiner joined Society6 on January 16, 2012
More
My paintings explore the idea that the basic human drive to ornament the material world is fundamentally innate, irresistible, and at its core, motivated by deeper impulses to understand the meaning of life and to experience a universal, elemental or essential reality. I use painting as a vehicle to engage with the act of ornamentation as a disciplined and sustained practice, and as a means of dialoging with fine art, folk art and craft traditions that for centuries have sought to interpret nature through a lens of careful and ornate pattern work, ultimately echoing the cellular patterns that constitute all matter. Incorporating elements of landscape, textile design and abstraction, my paintings employ a highly detailed visual language drawn from a wide and continually evolving range of influences, including traditional Indian and Aboriginal painting, psychedelic art, graphic design, Japanese landscape painting, medieval Catholic illuminated manuscripts, mid-century modernism and Victorian imagery. The work is rendered in oil and gold leaf on canvas, in series of twenty to thirty paintings, painted in many layers, over time.
www.ericasteiner.com
Erica Steiner joined Society6 on January 16, 2012.