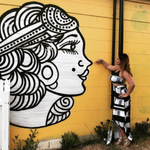 Erin Rea Design
Art + Animals ♥ erinrea.com
Featured in Cesar's Way Magazine, Real Homes UK, Apartment Therapy, Design*Sponge, Dog-Milk, and Pawsh Magazine!
My shop offers graphic prints, and my specialty is pet artwork. As a life-long animal lover, I really enjoy transforming pets into modern pieces of art.
Read more
Erin Rea Design's Store
Filter
You are currently on society6.com.