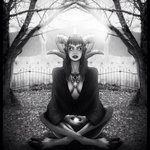 5th Aeon is the art of Terra Bosart, showcasing artwork also seen on my website 5thaeon.com Heavily influenced by themes of the occult, discordianism, as well as hooves and horns and other natural beauty, Society 6 is my initial step out into the marketplace, at the suggestions of several people. So here I am, and I hope you enjoy the pretties. joined Society6 on July 27, 2013
More
5th Aeon is the art of Terra Bosart, showcasing artwork also seen on my website 5thaeon.com
Heavily influenced by themes of the occult, discordianism, as well as hooves and horns and other natural beauty, Society 6 is my initial step out into the marketplace, at the suggestions of several people. So here I am, and I hope you enjoy the pretties.
joined Society6 on July 27, 2013.