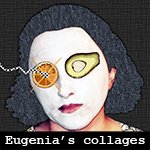 Eugenia Loli
Ex-developer, ex-tech reporter, ex-filmmaker, now an illustrator and a collage artist. The entirety of my work is licensed under the liberal Creative Commons. For questions, commissions, licensing etc, email me at eugenia17@gmail.com For signed prints, or for prints of my collages not found here, you can find them at http://eugenialoli.tictail.com Portfolio: http://www.eugenialoli.com Instagram: http://instagram.com/eugenia_loli (collages) Instagram: http://instagram.com/souliotissa (illustrations) Facebook: http://www.facebook.com/EugeniasCollages Tumblr: http://eugenialoli.tumblr.com Eugenia Loli joined Society6 on June 23, 2012
More
Ex-developer, ex-tech reporter, ex-filmmaker, now an illustrator and a collage artist. The entirety of my work is licensed under the liberal Creative Commons.
For questions, commissions, licensing etc, email me at eugenia17@gmail.com For signed prints, or for prints of my collages not found here, you can find them at http://eugenialoli.tictail.com
Portfolio: http://www.eugenialoli.com Instagram: http://instagram.com/eugenia_loli (collages) Instagram: http://instagram.com/souliotissa (illustrations) Facebook: http://www.facebook.com/EugeniasCollages Tumblr: http://eugenialoli.tumblr.com
Eugenia Loli joined Society6 on June 23, 2012.
Prints by Eugenia Loli
297 results
Filter