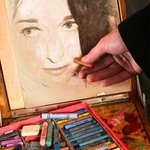 Fiery-Fire is the art name I have created in 2008 for joining one of the art websites and after becoming more recognized & popular, mainly in Fractal Art circles I have kept the identity for other artful net ventures. The main genre of Fiery or Yva (as you prefer) galleries is FRACTAL ART, I have been widening my horizons in digital art via infinite translation of math formulas into detailed, geometric images using many different softwares. Hope you will enjoy the gallery at society6 and do let me know if you like it !! Other websites you can find my gallery on: http://fiery-fire.deviantart.com/ http://www.redbubble.com/people/fiery-fire http://www.zazzle.com/fiery\_fire joined Society6 on December 3, 2011
More
Fiery-Fire is the art name I have created in 2008 for joining one of the art websites and after becoming more recognized & popular, mainly in Fractal Art circles I have kept the identity for other artful net ventures. The main genre of Fiery or Yva (as you prefer) galleries is FRACTAL ART, I have been widening my horizons in digital art via infinite translation of math formulas into detailed, geometric images using many different softwares.
Hope you will enjoy the gallery at society6 and do let me know if you like it !!
Other websites you can find my gallery on:
http://fiery-fire.deviantart.com/
http://www.redbubble.com/people/fiery-fire
http://www.zazzle.com/fiery_fire
joined Society6 on December 3, 2011.