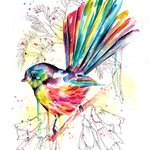 Fiona Clarke
Check out http://fiona-clarke.com/about-me for all about me and links to my social sites like facebook, youtube, instagram and more!
I'm Fiona, I was born and raised in Zimbabwe. I moved to New Zealand with my family when I was 13 years old.
Art has always been my hobby and I love learning new techniques and using new mediums. Here on my website you will find an archive of paintings I have done over the years, I often look back on them and draw inspiration for new works.
Thanks for dropping by!
Read more
Fiona Clarke's Store
Filter