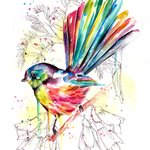 Fiona Clarke
Check out www.fionaclarkeart.co.nz for more art and links to my social accounts.
Hey! I'm Fiona, a watercolour artist from New Zealand (originally Zimbabwe). I love working in bright colours and just generally having fun with my art.
Thanks for dropping by!
Read more
Fiona Clarke's Store
Filter
You are currently on society6.com.