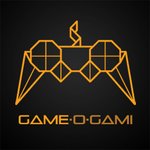 GAME-O-GAMI
GAME-O-GAMI is a game development studio dedicated to creating fun and original games you can play on your mobile devices, and on your dining room table. Games are social, and so is our studio. We want to build a community where our supporters have as much fun interacting with us and each other, as they do playing our games. That's where you come in. Through your interaction, feedback, and contributions, our creative community will grow, improve, and flourish. And in return, we will be empowered to bring you the best games and most beautiful artwork that you deserve! Create together, Play together. Our Website - www.game-o-gami.com Twitter - https://twitter.com/gameogami Facebook - https://www.facebook.com/gameogami DeviantART - http://gameogami.deviantart.com/ Games Store - http://www.game-o-gami.com/store/ GAME-O-GAMI joined Society6 on August 15, 2012
More
GAME-O-GAMI is a game development studio dedicated to creating fun and original games you can play on your mobile devices, and on your dining room table. Games are social, and so is our studio. We want to build a community where our supporters have as much fun interacting with us and each other, as they do playing our games. That's where you come in. Through your interaction, feedback, and contributions, our creative community will grow, improve, and flourish. And in return, we will be empowered to bring you the best games and most beautiful artwork that you deserve! Create together, Play together.
Our Website - www.game-o-gami.com Twitter - https://twitter.com/gameogami Facebook - https://www.facebook.com/gameogami DeviantART - http://gameogami.deviantart.com/ Games Store - http://www.game-o-gami.com/store/
GAME-O-GAMI joined Society6 on August 15, 2012.
Pillows by GAME-O-GAMI
30 results
Filter