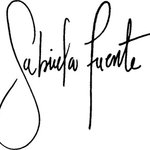 Gabriela Fuente
My name is Gabriela Fuente I have a BA in Fashion. I started to work in the fashion industry in 2005 as a product developer for adidas Regional – working with the Latin America local production of apparel. It was in 2008 that I found my real place in the fashion industry working as a print designer. My main tools are: pen, pencil, water-colour, paper, Photoshop, Illustrator, photos, ink, Corel Draw and oil pastel. My aim is to create beautiful, trendy prints that will fit perfectly to my clients needs.
Small list of brands that bought designs I made:
River Island – Vero Moda – Lindex – Street One – S. Oliver – Only – Gestuz – Front Row Society – Huis Clos – Maria Garcia – Santino -Moça Bonita – Carlos Miele
I love to travel, paint, create, find new adventures, long walks, watching good movies and fashion!
For commissions please contact me at:
gabriela@gabrielafuente.com
https://www.instagram.com/gabrielafuentestudio/ https://gabrielafuente.com/ https://www.facebook.com/GabrielaFuenteStudio/
Read more