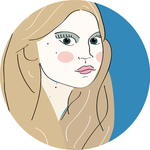 Galitt
Hello! I'm Galit. I'm a slow-paced illustrator and maker of all sorts leaving in leafy Adelaide, South Australia. I'm largely influenced by fashion, colour and pattern, nature, the pop-art movement and jazz music. I enjoy working in both digital and analog media. I'm available for commissions, freelance opportunities, and more than happy to hear about collaboration ideas! Get in touch! http://www.facebook.com/GalittIllustration http://twitter.com/slownoodle Also here: Portfolio: http://galitt.tumblr.com Flickr: http://www.flickr.com/photos/galsha Pinterest: http://pinterest.com/galitt (and I sometimes blog here: http://www.slownoodle.com) Galitt joined Society6 on January 24, 2012
More
Hello! I'm Galit. I'm a slow-paced illustrator and maker of all sorts leaving in leafy Adelaide, South Australia. I'm largely influenced by fashion, colour and pattern, nature, the pop-art movement and jazz music. I enjoy working in both digital and analog media.
I'm available for commissions, freelance opportunities, and more than happy to hear about collaboration ideas!
Get in touch! http://www.facebook.com/GalittIllustration http://twitter.com/slownoodle
Also here: Portfolio: http://galitt.tumblr.com Flickr: http://www.flickr.com/photos/galsha Pinterest: http://pinterest.com/galitt (and I sometimes blog here: http://www.slownoodle.com)
Galitt joined Society6 on January 24, 2012.