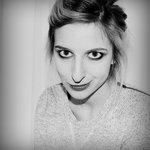 My name is Geraldine. I'm a french visual artist living in the south of France. My artistic universe is full of creatures and animals, of paterns and landscapes. I mostly work with pens, spraypaint and brushs but I olso love photography and digital art. You can find my creations on Facebook. Thank you for your support! It's all love. joined Society6 on May 12, 2013
More
My name is Geraldine. I'm a french visual artist living in the south of France. My artistic universe is full of creatures and animals, of paterns and landscapes. I mostly work with pens, spraypaint and brushs but I olso love photography and digital art.
You can find my creations on Facebook.
Thank you for your support!
It's all love.
joined Society6 on May 12, 2013.