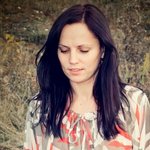 Ginta Spate
Photography is my way of life. I'm fascinated by digital photo art. I call it painting using new technologies. I live in a small and beautiful country Latvia near the Baltic Sea. Most of my photos are taken there. I like to experiment and see new, surprising results in my photos. More of my photos can be viewed on my web page www.gintaspate.lv , welcome there! Ginta Spate joined Society6 on December 18, 2011
More
Photography is my way of life. I'm fascinated by digital photo art. I call it painting using new technologies. I live in a small and beautiful country Latvia near the Baltic Sea. Most of my photos are taken there. I like to experiment and see new, surprising results in my photos.
More of my photos can be viewed on my web page www.gintaspate.lv , welcome there!
Ginta Spate joined Society6 on December 18, 2011.
Prints by Ginta Spate
47 results
Filter