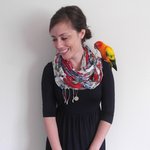 Girl + Parrot is me, Danielle, and Flojo, the parrot. All projects are done with Flojo sitting on my head, on my shoulder, or inside my shirt. I'm inspired by glossy fashion magazines, the Orion nebula, Elaine De Kooning, and natural, unrehearsed poses and behaviors in everyday life. I find that my interests change pretty often, and that's often reflected in the drawing, painting, or screen printing I'm working on. I just love art! In addition to painting and drawing, I enjoy running, hunting for vintage treasures, birdwatching, and reading. Flojo enjoys peanut butter, orange juice, stealing my food, kissing, and bathing. We also share our home with Chris, a human, and Kona, a black lab/pit bull mix who likes to nap (and talk in his sleep) wherever we're working. joined Society6 on December 12, 2012
More
Girl + Parrot is me, Danielle, and Flojo, the parrot. All projects are done with Flojo sitting on my head, on my shoulder, or inside my shirt.
I'm inspired by glossy fashion magazines, the Orion nebula, Elaine De Kooning, and natural, unrehearsed poses and behaviors in everyday life. I find that my interests change pretty often, and that's often reflected in the drawing, painting, or screen printing I'm working on. I just love art!
In addition to painting and drawing, I enjoy running, hunting for vintage treasures, birdwatching, and reading. Flojo enjoys peanut butter, orange juice, stealing my food, kissing, and bathing. We also share our home with Chris, a human, and Kona, a black lab/pit bull mix who likes to nap (and talk in his sleep) wherever we're working.
joined Society6 on December 12, 2012.