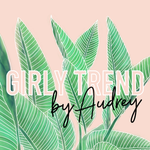 http://audreychenal.com http://bit.ly/girlytrendinstagram https://www.facebook.com/GirlyTrendArt/ I'm Audrey, a french artist / graphic designer living in Spain. With a passion for all things stylish and sartorial, Girly Trend is a vibrant brand that aims to cast a little colour on the world. We tirelessly trawl the cosmos for pattern inspiration and style stimulation, mixing the latest trends with our signature feminine flair. Thanks to our weakness for colour trends and our penchant for patterns, Girly Trend is your go-to emporium for injecting a little fun into your life. Whether you infuse your interior design with some of our home décor creations, or you carry a piece of our psychedelic sophistication with you courtesy of our phone cases and watch straps, Girly Trend will certainly give you a reason to sparkle. joined Society6 on November 19, 2012
More
http://audreychenal.com
http://bit.ly/girlytrendinstagram
https://www.facebook.com/GirlyTrendArt/
I'm Audrey, a french artist / graphic designer living in Spain.
With a passion for all things stylish and sartorial, Girly Trend is a vibrant brand that aims to cast a little colour on the world.
We tirelessly trawl the cosmos for pattern inspiration and style stimulation, mixing the latest trends with our signature feminine flair.
Thanks to our weakness for colour trends and our penchant for patterns, Girly Trend is your go-to emporium for injecting a little fun into your life.
Whether you infuse your interior design with some of our home décor creations, or you carry a piece of our psychedelic sophistication with you courtesy of our phone cases and watch straps, Girly Trend will certainly give you a reason to sparkle.
joined Society6 on November 19, 2012.