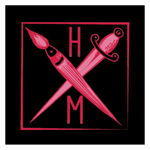 St. Louis native, Hannah Maria is a self-taught artist, illustrator and designer, who is more apt to tell you she makes a living "making pretty things." She is a color tasting, coffee addict, who lives in a unicorn themed Winnebago with her chronically bad tempered pooch, all while traveling the country and finding "The Pretty." Raised by a loud, passionate and strong family of natural born storytellers, Hannah Maria found her voice creating wild and bold works of art. She has been creating unique pieces in her mind before even setting pen or pencil to paper, or paint brush to canvas. Combing a sense of dramatic form, vivid colors, and inspiration from the natural world and it's inhabitants. Hannah Maria puts her soul into every project, creating her special brand of unique magic. joined Society6 on July 2, 2012
More
St. Louis native, Hannah Maria is a self-taught artist, illustrator and designer, who is more apt to tell you she makes a living "making pretty things." She is a color tasting, coffee addict, who lives in a unicorn themed Winnebago with her chronically bad tempered pooch, all while traveling the country and finding "The Pretty."
Raised by a loud, passionate and strong family of natural born storytellers, Hannah Maria found her voice creating wild and bold works of art. She has been creating unique pieces in her mind before even setting pen or pencil to paper, or paint brush to canvas. Combing a sense of dramatic form, vivid colors, and inspiration from the natural world and it's inhabitants.
Hannah Maria puts her soul into every project, creating her special brand of unique magic.
joined Society6 on July 2, 2012.