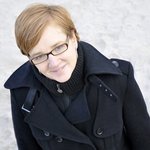 Heather Dutton
Heather Dutton is an imaginative designer with a passion for pattern and color. After enjoying a successful career in the fashion industry, she followed her creative heart and launched her surface design company: Hang Tight Studio. Heather's diverse style bridges the gap between retro and contemporary design with a touch of whimsy mixed in… because the designs you surround yourself by should make you smile. Nestled in her lime green studio in Kennebunk, Maine, Heather spends her days dreaming up new creations and she's thrilled to partner with Society6 to present a collection of her latest designs. For more information about her work or for licensing inquiries please get in touch Email: heather@hangtightstudio Website: http://www.hangtightstudio.com/ Instagram: http://instagram.com/hangtight Facebook: https://www.facebook.com/hangtightstudio88 Twitter: https://twitter.com/HangTightStudio Heather Dutton joined Society6 on January 24, 2012
More
Heather Dutton is an imaginative designer with a passion for pattern and color. After enjoying a successful career in the fashion industry, she followed her creative heart and launched her surface design company: Hang Tight Studio.
Heather's diverse style bridges the gap between retro and contemporary design with a touch of whimsy mixed in… because the designs you surround yourself by should make you smile. Nestled in her lime green studio in Kennebunk, Maine, Heather spends her days dreaming up new creations and she's thrilled to partner with Society6 to present a collection of her latest designs.
For more information about her work or for licensing inquiries please get in touch Email: heather@hangtightstudio
Website: http://www.hangtightstudio.com/ Instagram: http://instagram.com/hangtight Facebook: https://www.facebook.com/hangtightstudio88 Twitter: https://twitter.com/HangTightStudio
Heather Dutton joined Society6 on January 24, 2012.