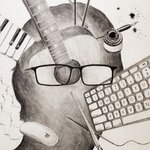 Henry LaVoo
I view everything that I do as a form of art, wether it is visual, audio, or the programming behind the scenes, it all plays an important part in creating an experience. I have recently become more interested in the art of storytelling and the ways that a well crafted image has the power to communicate in both bold and subtle ways. See more of my work at: henrylavoo.com Henry LaVoo joined Society6 on August 28, 2012
More
I view everything that I do as a form of art, wether it is visual, audio, or the programming behind the scenes, it all plays an important part in creating an experience. I have recently become more interested in the art of storytelling and the ways that a well crafted image has the power to communicate in both bold and subtle ways.
See more of my work at: henrylavoo.com
Henry LaVoo joined Society6 on August 28, 2012.
Elephant No 1_Iphone Case by Henry LaVoo
45 results
Filter