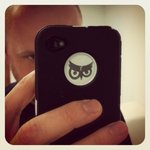 Michael J., aka HeyYoMike, is a primarily self-taught artist who hails from the dark and bloody ground of Kentucky. He has made art since he was a small child. His style is unclassifiable. He doesn't pretend to understand art or use fractal patterns when he creates it. In fact, his mathematical skill is far worse than his artistic skill. His art has no meaning and he knows no large words or creative ways to make it sound as if it does. Michael J. has no preferred choice of media. He will draw with anything and can draw inspiration from almost anything. He is influenced by too many people to name. His interests change almost daily, but something that is ever-present is his desire to create art and to have fun while doing it. Michael J. divides his time between his family, his day job, and his art. He has designed plush toys professionally for Toy Vault, INC, working on their Here Be Nightmares, The Princess Bride, Labyrinth, Monty Python and the Holy Grail, and The Dark Crystal lines. He continues to work on independent projects as well as commissioned pieces. Check out Micheal on the web at www.heyyomike.com or contact him at mike@heyyomike.com. joined Society6 on June 25, 2012
More
Michael J., aka HeyYoMike, is a primarily self-taught artist who hails from the dark and bloody ground of Kentucky. He has made art since he was a small child. His style is unclassifiable. He doesn't pretend to understand art or use fractal patterns when he creates it. In fact, his mathematical skill is far worse than his artistic skill. His art has no meaning and he knows no large words or creative ways to make it sound as if it does.
Michael J. has no preferred choice of media. He will draw with anything and can draw inspiration from almost anything. He is influenced by too many people to name. His interests change almost daily, but something that is ever-present is his desire to create art and to have fun while doing it.
Michael J. divides his time between his family, his day job, and his art. He has designed plush toys professionally for Toy Vault, INC, working on their Here Be Nightmares, The Princess Bride, Labyrinth, Monty Python and the Holy Grail, and The Dark Crystal lines. He continues to work on independent projects as well as commissioned pieces.
Check out Micheal on the web at www.heyyomike.com or contact him at mike@heyyomike.com.
joined Society6 on June 25, 2012.