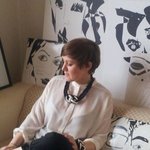 IZAIZA
IZAIZA is a graphic designer, illustrator and art director. Born in Poland and raised in Germany - Hamburg, where in 2003 she earned a degree in graphic design. Since then she has been successfully working as an art director in various advertising agencies for almost 5 years - from 2008 as a freelance art director. By the end of 2009, she dedicates her time, enthusiasm and passion more and more to illustration by exploring and diving into it as deep as she could. www.izaiza.de https://www.facebook.com/IzaIza75 IZAIZA joined Society6 on October 12, 2013
More
IZAIZA is a graphic designer, illustrator and art director. Born in Poland and raised in Germany - Hamburg, where in 2003 she earned a degree in graphic design. Since then she has been successfully working as an art director in various advertising agencies for almost 5 years - from 2008 as a freelance art director. By the end of 2009, she dedicates her time, enthusiasm and passion more and more to illustration by exploring and diving into it as deep as she could.
www.izaiza.de https://www.facebook.com/IzaIza75
IZAIZA joined Society6 on October 12, 2013.