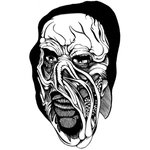 Ian Watson lives in Cardiff/Wales/U.K. having studied fine art at Howard Garden's campus there and prior to that at Hastings college near to his childhood home on the South Coast of England. The drawings found here are largely informed by a mis-spent youth hiding out with like-minded mutants in video rental shops and woodlands of East Sussex, head buried in headphones, soaking up the occult messages from a collection of heavy metal cassettes. Like to see more? Have a question about the images found here? Or maybe you have an idea for a collaboration or a private commission? Feel free to Email them. You can also find him on Twitter as uhohwatson. joined Society6 on January 23, 2013
More
Ian Watson lives in Cardiff/Wales/U.K. having studied fine art at Howard Garden's campus there and prior to that at Hastings college near to his childhood home on the South Coast of England.
The drawings found here are largely informed by a mis-spent youth hiding out with like-minded mutants in video rental shops and woodlands of East Sussex, head buried in headphones, soaking up the occult messages from a collection of heavy metal cassettes.
Like to see more? Have a question about the images found here? Or maybe you have an idea for a collaboration or a private commission? Feel free to Email them.
You can also find him on Twitter as uhohwatson.
joined Society6 on January 23, 2013.