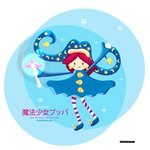 Introducing two fresh new characters! Their names are Bubbah. Bubbah are cute cartoon characters that get into many exciting adventures. The Bubbahs consists of two people, Girl Bubbah and Boy Bubbah. Visit us on the web at ilovebubbah.com Like us on facebook: https://www.facebook.com/ilovebubbah Follow us on twitter: https://twitter.com/#!/ILoveBubbah joined Society6 on April 2, 2012
More
Introducing two fresh new characters! Their names are Bubbah. Bubbah are cute cartoon characters that get into many exciting adventures. The Bubbahs consists of two people, Girl Bubbah and Boy Bubbah.
Visit us on the web at ilovebubbah.com
Like us on facebook: https://www.facebook.com/ilovebubbah
Follow us on twitter: https://twitter.com/#!/ILoveBubbah
joined Society6 on April 2, 2012.