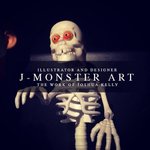 J-Monster Art is an illustrator based in Scotland, UK. His artwork is inspired by the comic books, tattoos, skateboarding and growing up watching horror films, all fueled by the power of black coffee. Owning his own clothing line at a young age brought him into illustration and has since been creating illustrations for bands and brands worldwide. Influenced by artists such as Godmachine, Joshua Belanger, Dan Mumford and Grindesign, pretty much anyone with a darker side of artwork. He is also inspired by many local artists and friends. If you are interested in working with me or have any general questions you can drop me a message via the contact section and I will get back to you asap. Don't worry I may look like Satan but I'm a cute cat lover on the inside.... Past clients: We Came From Wolves, Entertainment One (Eone), Ryan Gosling, Elite Online Magazine, Badlands Barber Shop, Hard Grind Barber Shop, Golf Death, Shlemonade Makeup, Barrens, Miss Vincent, Peaked Apparel, Alibi Clothing and many others joined Society6 on December 5, 2012
More
J-Monster Art is an illustrator based in Scotland, UK. His artwork is inspired by the comic books, tattoos, skateboarding and growing up watching horror films, all fueled by the power of black coffee. Owning his own clothing line at a young age brought him into illustration and has since been creating illustrations for bands and brands worldwide.
Influenced by artists such as Godmachine, Joshua Belanger, Dan Mumford and Grindesign, pretty much anyone with a darker side of artwork. He is also inspired by many local artists and friends.
If you are interested in working with me or have any general questions you can drop me a message via the contact section and I will get back to you asap. Don't worry I may look like Satan but I'm a cute cat lover on the inside....
Past clients: We Came From Wolves, Entertainment One (Eone), Ryan Gosling, Elite Online Magazine, Badlands Barber Shop, Hard Grind Barber Shop, Golf Death, Shlemonade Makeup, Barrens, Miss Vincent, Peaked Apparel, Alibi Clothing and many others
joined Society6 on December 5, 2012.