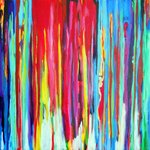 Precious Beast
Artist Jackie Phillips is driven by that sweet feeling you get when you know the colors are just right and the painting takes on a life of its own. Self-taught and armed with acrylic paints in nearly every color of the rainbow, she approaches her pieces pattern first and color second, always in search of the perfect balance of whimsy and pop. A Los Angeles native, she launched her successful art studio Precious Beast in 2010 and, soon after, started a line of hand-painted home accessories. Available online, her original abstract and animal pieces are currently brightening up spaces all over the country. Precious Beast joined Society6 on January 6, 2013
More
Artist Jackie Phillips is driven by that sweet feeling you get when you know the colors are just right and the painting takes on a life of its own. Self-taught and armed with acrylic paints in nearly every color of the rainbow, she approaches her pieces pattern first and color second, always in search of the perfect balance of whimsy and pop.
A Los Angeles native, she launched her successful art studio Precious Beast in 2010 and, soon after, started a line of hand-painted home accessories. Available online, her original abstract and animal pieces are currently brightening up spaces all over the country.
Precious Beast joined Society6 on January 6, 2013.