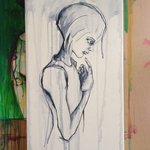 Colour, gesture and the essence of subjects are fundamental facets to Jacqui's artwork. Elements of figurative expressionism alongside pop surrealism and street/urban art give her inspiration and passion in her quest to create. Jacqui explores the figures central to her work initially through charcoal and pencil. Acrylic paint is used to help give body and soul to the forms as she gets to know the figures she creates in an emergent process. It is through this approach that every image has its own story. joined Society6 on December 5, 2012
More
Colour, gesture and the essence of subjects are fundamental facets to Jacqui's artwork. Elements of figurative expressionism alongside pop surrealism and street/urban art give her inspiration and passion in her quest to create.
Jacqui explores the figures central to her work initially through charcoal and pencil. Acrylic paint is used to help give body and soul to the forms as she gets to know the figures she creates in an emergent process. It is through this approach that every image has its own story.
joined Society6 on December 5, 2012.