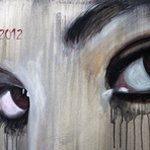 I started painting at 12 years old. I had no idea what I was doing. Last year (2011), I picked up the brush again after years of doing other things and it was magic. Everything flowed and worked! 15 paintings later I have more ideas then ever and am so joyous to learn more about art and what the possibilities are in the world of art today., I have met some amazing people. I have done my first art show and it was an amazing experience. My art, while I favor classic art, tends to start there and end up somewhere else. I believe that's exactly where it should go. I use only natural oil paint or high level acrylic and 100% pure cotton canvas. My original paintings may be available, More pictures are available of each work upon request, email me at jim@jameskrusefineart.com Please send me your comments, positive or negitive. You can leave the comments here send them to my email jim@jameskrusefineart.com, or any of the listed sites below. I look forward to hearing from you. Facebook: http://www.facebook.com/JamesKruseArtist Twitter: http://twitter.com/james_kruse My gallery: http:www.jameskrusefineart.com Thank you for looking at my art, that is why I created it:) joined Society6 on July 5, 2012
More
I started painting at 12 years old. I had no idea what I was doing. Last year (2011), I picked up the brush again after years of doing other things and it was magic. Everything flowed and worked! 15 paintings later I have more ideas then ever and am so joyous to learn more about art and what the possibilities are in the world of art today., I have met some amazing people. I have done my first art show and it was an amazing experience. My art, while I favor classic art, tends to start there and end up somewhere else. I believe that's exactly where it should go. I use only natural oil paint or high level acrylic and 100% pure cotton canvas. My original paintings may be available, More pictures are available of each work upon request, email me at jim@jameskrusefineart.com
Please send me your comments, positive or negitive. You can leave the comments here send them to my email jim@jameskrusefineart.com, or any of the listed sites below. I look forward to hearing from you.
Facebook: http://www.facebook.com/JamesKruseArtist
Twitter: http://twitter.com/james_kruse
My gallery: http:www.jameskrusefineart.com
Thank you for looking at my art, that is why I created it:)
joined Society6 on July 5, 2012.