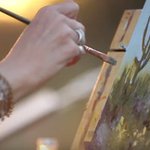 Jeannette Stutzman
I love to paint landscapes in oil and pastel and graphic and abstract pieces in a variety of mediums. I have a series of pieces painted to music~ inspired by the rhythm, beat and melody of different genres of music. So far I've painted to dubstep, the blues, rock n roll, Jeff Beck and Ottmar Leibert. I am currently painting large painting knife pieces with oils. I love the energy and direct connection to the landscape that I'm achieving with these works! http://www.JeannetteStutzman.com http://www.facebook.com/people/Jeannette-Stutzman/1336393812#!/ http://www.Instagram.com/jeannettestutzmanart Jeannette Stutzman joined Society6 on December 1, 2011
More
I love to paint landscapes in oil and pastel and graphic and abstract pieces in a variety of mediums.
I have a series of pieces painted to music~ inspired by the rhythm, beat and melody of different genres of music. So far I've painted to dubstep, the blues, rock n roll, Jeff Beck and Ottmar Leibert.
I am currently painting large painting knife pieces with oils. I love the energy and direct connection to the landscape that I'm achieving with these works!
http://www.JeannetteStutzman.com http://www.facebook.com/people/Jeannette-Stutzman/1336393812#!/ http://www.Instagram.com/jeannettestutzmanart
Jeannette Stutzman joined Society6 on December 1, 2011.