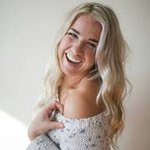 Jenna Kutcher
I am a Midwest and destination wedding photographer. I'm a hopeless romantic who lives in yoga pants and is fueled by coffee, macaroni and cheese, and sour gummy worms. I watercolor on the daily and love taking naps. I am a wife to a handsome man and a mom to two scruffy rescue pups. I love traveling the world and hibernating in the winter. I'm in this to tell love stories, love stories about people just like you. Jenna Kutcher joined Society6 on February 18, 2014
More
I am a Midwest and destination wedding photographer. I'm a hopeless romantic who lives in yoga pants and is fueled by coffee, macaroni and cheese, and sour gummy worms. I watercolor on the daily and love taking naps. I am a wife to a handsome man and a mom to two scruffy rescue pups. I love traveling the world and hibernating in the winter.
I'm in this to tell love stories, love stories about people just like you.
Jenna Kutcher joined Society6 on February 18, 2014.
Lets Be Adventurers Watercolor Floral Wreath Print_Print by Jenna Kutcher
431 results
Filter