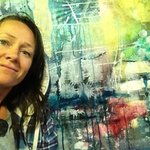 Studio Flow
Through my art I explore myself and I practice to be here and now and to let go. I create based on an intuitive process and most of my paintings evolve as I paint. It is my inner guide that guides me. When I find my flow magic happens and it fills me with energy!
I work with mixed media - acrylic paint, ink, color pencils, fabrics, paper, photos... anything that comes my way. My work is very rich with many layers that add depth and texture. My work is exhibited and for sale both in Sweden and New Zealand as well as on-line.
I believe that many of us have lost the connection with our spiritual self. Many of us search for answers. We want to expand and explore; love, creativity and our spirituality. But we fail. We seem to go in circles and not find the answers. I believe that we should stop searching and start listening. Listen to our inner voice, our intuition. If we do we will achieve more and peace will develop within ourselves.
With my art I want to reach out to people and remind them to stop and listen and give them the energy to be brave and act based on their intuition!
Read more