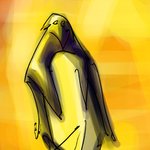 Tell Me A Story... is an experience that will combine the interactivity of a video-game with the storytelling medium of a web-comic to provide the reader with a unique, immersive and evolving epic. Seamlessly incorporating both still and animated panels within a single page, Tell Me A Story... will be presented as an HTML5 based website. Tell Me A Story... will give you, the reader, control of the central character's movements and choices as they make their way through bizarre 3D environments populated by alien beings. It's the Mass Effect trilogy meets Star Trek: The Next Generation. Find us on Kickstarter: http://www.kickstarter.com/projects/1766581314/an-interactive-animated-sci-fi-experience Like us on Facebook: https://www.facebook.com/TellMeAStory Follow us on Blogger: http://interactiveanimatedscifi.blogspot.com/ joined Society6 on January 19, 2013
More
Tell Me A Story... is an experience that will combine the interactivity of a video-game with the storytelling medium of a web-comic to provide the reader with a unique, immersive and evolving epic. Seamlessly incorporating both still and animated panels within a single page, Tell Me A Story... will be presented as an HTML5 based website. Tell Me A Story... will give you, the reader, control of the central character's movements and choices as they make their way through bizarre 3D environments populated by alien beings. It's the Mass Effect trilogy meets Star Trek: The Next Generation.
Find us on Kickstarter: http://www.kickstarter.com/projects/1766581314/an-interactive-animated-sci-fi-experience
Like us on Facebook: https://www.facebook.com/TellMeAStory
Follow us on Blogger: http://interactiveanimatedscifi.blogspot.com/
joined Society6 on January 19, 2013.