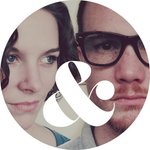 Jess & Keegan
We are a collaborative that cannot deny that human life is a collective effort of many parts, and a vast sum of time, energy, and connections. Our work captures this idea. Jess aims to represent realism, organic patterns and details of nature while Keegan embodies the design, form, color and texture of human culture. Through this balanced mixture of joint effort and found objects our work is created. Jess & Keegan joined Society6 on August 5, 2012
More
We are a collaborative that cannot deny that human life is a collective effort of many parts, and a vast sum of time, energy, and connections.
Our work captures this idea.
Jess aims to represent realism, organic patterns and details of nature while Keegan embodies the design, form, color and texture of human culture.
Through this balanced mixture of joint effort and found objects our work is created.
Jess & Keegan joined Society6 on August 5, 2012.
They Talk Together_Iphone Case by Jess & Keegan
35 results
Filter