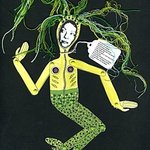 Jody MacDonald
Jody attended the bealart program in London, ON (1986-89) where she majored in textiles and printmaking. Continuing her studies in Vancouver, BC she focused on sculpture, performance, and installation, graduating with a diploma in Studio (ECIAD 1996), and a BFA in Visual Arts (ECU 2011). Her current conceptualizations are exorcised as works-on-paper and sculpture.
Jody's art practice is an ongoing exploration of identity, consumption, stereotype, and "genuine" vs. "imitation", characterized by dark humour, multiples, and an obsessive attention to detail. Her meticulously crafted work has been exhibited in galleries and artist-run centers throughout Canada (New Brunswick, Nova Scotia, Ontario, Alberta, Saskatchewan, and British Columbia).
Currently working as an object maker, Jody is sensitive to the fact that her work adds to the flotsam and jetsam of the world. She practices and promotes the reclaiming, reusing, and repurposing of materials in her studio practice.
Read more