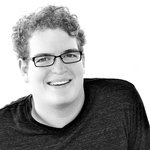 Hi I'm Jon Sams Director, Photographer, Wildeian, Muse, Time Traveler, Music Lover I'm a student filmmaker/photographer studying at Florida State University's Film School. My photography is inspired by my film and vice versa. I see no reason why film techniques could not be applied to photography or photography styles to film. In my adventures and travels that my pursuit of a film career may take me through, I will always be taking pictures, I will always be passionate about film. I just want to share the world with people. I just want everyone to see the world the same way I do. Life Imitates Art mylifeisfilm.tumblr.com joined Society6 on November 29, 2011
More
Hi I'm Jon Sams
Director, Photographer, Wildeian, Muse, Time Traveler, Music Lover
I'm a student filmmaker/photographer studying at Florida State University's Film School. My photography is inspired by my film and vice versa. I see no reason why film techniques could not be applied to photography or photography styles to film. In my adventures and travels that my pursuit of a film career may take me through, I will always be taking pictures, I will always be passionate about film.
I just want to share the world with people.
I just want everyone to see the world the same way I do.
Life Imitates Art
mylifeisfilm.tumblr.com
joined Society6 on November 29, 2011.