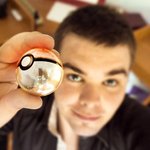 \*Do you know who I am ?\* I'm Jonathanjo, a digital artist on DeviantART.com . I've made some realistic pokeballs became popular over the web. \*Realistic pokeballs ?\* Some Fanart works where Pokemon merge with the reality. Otherwise, I draw and create anime/manga works or commissions (ask by mail). Recently, a new Fan Page on Facebook was made by me, I very like share art and show original/unusual things onto. My DeviantART : http://jonathanjo.deviantart.com Facebook Fan Page : http://www.facebook.com/jonathanjod joined Society6 on January 31, 2013
More
*Do you know who I am ?* I'm Jonathanjo, a digital artist on DeviantART.com .
I've made some realistic pokeballs became popular over the web.
*Realistic pokeballs ?* Some Fanart works where Pokemon merge with the reality.
Otherwise, I draw and create anime/manga works or commissions (ask by mail).
Recently, a new Fan Page on Facebook was made by me, I very like share art and show original/unusual things onto.
My DeviantART : http://jonathanjo.deviantart.com
Facebook Fan Page : http://www.facebook.com/jonathanjod
joined Society6 on January 31, 2013.