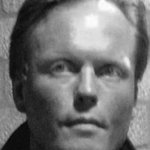 \*Joseph Walrave\*'s work is inspired by black and white photographs of movie stars, fashion models, pop icons, painters, architecture, culture, religion, literature, erotica and the news. In his own words: "I prefer black and white photographs, because they give me the opportunity to determine my own feelings on the subject. Based on those feelings, I choose the colors and the style of the picture to draw. Colors block this process, since they already define the atmosphere of an image. Upfront, I never know what the result will be. Only in the end I will know whether I have succeeded. Then I give the piece a fitting title. My goal is to catch the attention of people that are interested in art. As a young boy I was intrigued by the art of famous painters like Dali, Chagall, Bacon, Picasso, Matisse, Basquiat, etcetera. I also admired the works and perfection of the Renaissance. To me, art was simply intriguing and beautiful. Even though I enjoy art that has a deeper meaning, I think it should basically act as a visual stimulus. The piece itself must be intriguing and not predominantly because of a certain philosophy. joined Society6 on August 29, 2011
More
*Joseph Walrave*'s work is inspired by black and white photographs of movie stars, fashion models, pop icons, painters, architecture, culture, religion, literature, erotica and the news. In his own words:
"I prefer black and white photographs, because they give me the opportunity to determine my own feelings on the subject.
Based on those feelings, I choose the colors and the style of the picture to draw. Colors block this process, since they already define the atmosphere of an image.
Upfront, I never know what the result will be. Only in the end I will know whether I have succeeded. Then I give the piece a fitting title.
My goal is to catch the attention of people that are interested in art.
As a young boy I was intrigued by the art of famous painters like Dali, Chagall, Bacon, Picasso, Matisse, Basquiat, etcetera.
I also admired the works and perfection of the Renaissance. To me, art was simply intriguing and beautiful.
Even though I enjoy art that has a deeper meaning, I think it should basically act as a visual stimulus. The piece itself must be intriguing and not predominantly because of a certain philosophy.
joined Society6 on August 29, 2011.