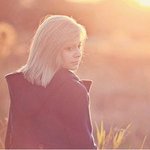 Josrick
CONTACT ME: josrick@outlook.com (contact me with any questions you might have, or if you have a request such as wanting a print without text on it if it currently has text.)
Visit my other Society6 shop! http://www.society6.com/abstractsbyjosrick
My username on here is "Josrick", but my actual name is Josie. I am a film production major at the University of Wisconsin, Milwaukee. During my senior year of high school, I taught the drawing level 1 class.
Interests: Photography (specifically black and white film photography. I develop my own film and prints when I have access to a darkroom), drawing, pottery, film making, philosophy, attending concerts (of the indie/folk/electronic genres), and video games.
Obsessions: cats and the color mustard.
Note: I don't have a particular style per say; I am inspired by the places/things that I stumble upon throughout my life. Because of this, my work probably doesn't seem very consistent. I also don't stick to one medium (although, most of my work on here is photography/vector patterns). I hope you enjoy browsing through my work!
Josie
If you have Instagram, take a photo of your purchase and tag me @josiesteinfort ! :)
Can't find what you're looking for? Visit my Redbubble shop! I offer iPad cases, iPhone cases, stickers, posters, postcards, and a wide selection of apparel including children/infant sizes!
http://www.redbubble.com/people/josrick
*NOTE: While you are purchasing a piece of art, the copyright of the work does not transfer with a sale which means that in purchasing this piece of art you are not purchasing the right to print, copy, or reproduce this image in any way without the artist's permission.
Read more