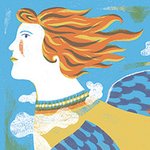 Kaley McKean
Kaley is an illustrator working in the realms of children's literature, editorial publications and product design. She lives in Toronto with a cat, some reptiles, and a husband (and fellow illustrator) named Nolan Pelletier. To see more of her work please visit kaleymckean.com Kaley McKean joined Society6 on April 2, 2013
More
Kaley is an illustrator working in the realms of children's literature, editorial publications and product design. She lives in Toronto with a cat, some reptiles, and a husband (and fellow illustrator) named Nolan Pelletier.
To see more of her work please visit kaleymckean.com
Kaley McKean joined Society6 on April 2, 2013.