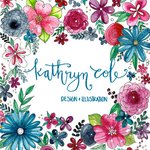 Hello and welcome. I am a surface designer and illustrator based in the United States. I design and create beautiful floral and nature inspired designs for surface design. I would love to work with you on your next project big or small. My specialty is florals and hand-lettering. My designs are a mix of watercolored florals and hand drawn and digitally colored intricate designs. My artistic style combines my hand-drawn work with digital to create fresh, vibrant, and uplifting designs. I have a passion for flowers and floral arranging and this shows in the details and layers of my design work and striking colors. I am inspired to "Make everyday beautiful" with my designs. My other inspirations include the beach, nature, and traveling as well as vintage florals. joined Society6 on October 8, 2011
More
Hello and welcome. I am a surface designer and illustrator based in the United States. I design and create beautiful floral and nature inspired designs for surface design.
I would love to work with you on your next project big or small. My specialty is florals and hand-lettering. My designs are a mix of watercolored florals and hand drawn and digitally colored intricate designs. My artistic style combines my hand-drawn work with digital to create fresh, vibrant, and uplifting designs. I have a passion for flowers and floral arranging and this shows in the details and layers of my design work and striking colors. I am inspired to "Make everyday beautiful" with my designs. My other inspirations include the beach, nature, and traveling as well as vintage florals.
joined Society6 on October 8, 2011.