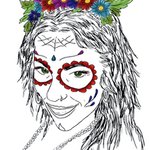 Katya Zorin
Hey! I am a textile artist and designer. I see in textile design an endless world of colors, textures and imagination that enables me to express my beliefs and passions. What inspires me is Ukrainian textiles, ethnic ornaments, nature and tattoo art. Almost all of my works are drawn or made by hand and digitally edited. You can visit me on www.katyazorin.com Facebook- https://www.facebook.com/KatyaZorinTextlleDesignArt?ref=hl Instagram- katyazorin Pinterest- http://pinterest.com/katyazorin/ Katya Zorin joined Society6 on January 2, 2012
More
Hey! I am a textile artist and designer.
I see in textile design an endless world of colors, textures and imagination that enables me to express my beliefs and passions. What inspires me is Ukrainian textiles, ethnic ornaments, nature and tattoo art. Almost all of my works are drawn or made by hand and digitally edited.
You can visit me on www.katyazorin.com
Facebook- https://www.facebook.com/KatyaZorinTextlleDesignArt?ref=hl
Instagram- katyazorin
Pinterest- http://pinterest.com/katyazorin/
Katya Zorin joined Society6 on January 2, 2012.