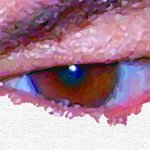 Ken Slabach
Trained as a fine artist at the University of South Florida in Tampa during the 1970's, Ken Slabach learned and practiced the conventional methods of drawing and painting. In 1976, he left school to become an architectural draftsman in Sarasota, Florida so that he could become an accepted member of mainstream society. He first began creating digital art in 1985 after purchasing an original model Apple Macintosh computer. In those early days, he worked with the limited software available at the time to produce low resolution black and white drawings. While working as a Graphic Designer for several publishing companies over the last two decades, he learned to embrace each technological advance in the digital field by using Photoshop, various 3D rendering programs and other digital software and tools. Today's color printing capabilities have finally allowed him to create the completely digital artwork that he always thought possible. He now resides in Naples, Florida where he paints and draws for his own amusement exclusively in the digital world. Ken Slabach joined Society6 on June 11, 2012
More
Trained as a fine artist at the University of South Florida in Tampa during the 1970's, Ken Slabach learned and practiced the conventional methods of drawing and painting. In 1976, he left school to become an architectural draftsman in Sarasota, Florida so that he could become an accepted member of mainstream society.
He first began creating digital art in 1985 after purchasing an original model Apple Macintosh computer. In those early days, he worked with the limited software available at the time to produce low resolution black and white drawings.
While working as a Graphic Designer for several publishing companies over the last two decades, he learned to embrace each technological advance in the digital field by using Photoshop, various 3D rendering programs and other digital software and tools. Today's color printing capabilities have finally allowed him to create the completely digital artwork that he always thought possible.
He now resides in Naples, Florida where he paints and draws for his own amusement exclusively in the digital world.
Ken Slabach joined Society6 on June 11, 2012.
Popular+ by Ken Slabach
67 results
Filter