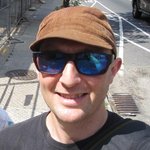 Kevin Willsey
Give me a pencil and I'll draw you a picture.
Give me a bicycle and I'll ride it to the end.
Give me a beer and I'll be your friend.
Follow me on: http://www.badcatportraits.com/.
https://www.facebook.com/BadCatPortraits
Want a portrait of your very own pet or special person? Email me at ktwillsey@gmail.com. Let's talk!
Read more
Kevin Willsey's Store
Filter