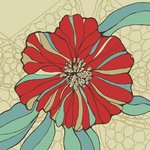 See the design and touch it. I love the detail, color and forms all dancing on a warm surface: the fabric. I'm a mom of tree beautiful childrens. They are my KIRPA: the blissful grace of God raining down on us, always. http://www.kirpapatagonia.com/ I hope you enjoy and have fun as much as I enjoy learning every day. joined Society6 on April 15, 2012
More
See the design and touch it. I love the detail, color and forms all dancing on a warm surface: the fabric. I'm a mom of tree beautiful childrens. They are my KIRPA: the blissful grace of God raining down on us, always.
http://www.kirpapatagonia.com/
I hope you enjoy and have fun as much as I enjoy learning every day.
joined Society6 on April 15, 2012.