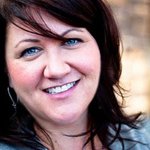 Kirsten Neil
Hello and thanks for stopping by my Society6 page! I'm Kirsten and I love to explore and experiment with watercolour. I don't mind other mediums like pen and ink or acrylics, but watercolour is where I found my fit. I'm self-taught, but have to give huge props to my junior high art teacher, Miss Bachewich, for telling me I had talent and encouraging me along the way. If you want to know more about me or talk to me about a commission, you can: Find me on Twitter: @kirstenneil Check out my Facebook page: https://www.facebook.com/KirstenNeilArt Or read my silly blog: http://betweenbrushstrokes.com/ Kirsten Neil joined Society6 on October 5, 2011
More
Hello and thanks for stopping by my Society6 page! I'm Kirsten and I love to explore and experiment with watercolour. I don't mind other mediums like pen and ink or acrylics, but watercolour is where I found my fit.
I'm self-taught, but have to give huge props to my junior high art teacher, Miss Bachewich, for telling me I had talent and encouraging me along the way.
If you want to know more about me or talk to me about a commission, you can: Find me on Twitter: @kirstenneil Check out my Facebook page: https://www.facebook.com/KirstenNeilArt Or read my silly blog: http://betweenbrushstrokes.com/
Kirsten Neil joined Society6 on October 5, 2011.