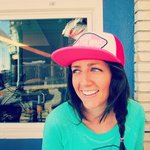 My name is Kristen Spaeth. I am an artist living in Los Angeles, California. I grew up in the suburbs of Akron, Ohio and graduated from the Columbus College of Art and Design. Much to the dismay of my drawing teachers, I majored in fashion design so I could enjoy a career that encompasses my love of all things art, music, and fashion. I have been working as a fashion designer and creative director in the fashion industry for 12 years. I have, and continue to design for numerous major clothing manufacturers, selling to retailers such as Forever 21, Nordstrom, and Target. Designing mostly licensed product, I work with everyone from Disney, to Mattel, to Sanrio on a daily basis. Never losing my passion for fine art and illustration, I have been working on my pop culture inspired paintings as my "second job" for many years. I work with a mixture of mediums including acrylics, spray paint, and oils. Check out my bubblegum pop inspired adventures here: https://www.facebook.com/x10lynnart http://instagram.com/kristenlynnart/ http://kristenlynnart.tumblr.com/ https://twitter.com/X10lynn joined Society6 on October 30, 2012
More
My name is Kristen Spaeth. I am an artist living in Los Angeles, California. I grew up in the suburbs of Akron, Ohio and graduated from the Columbus College of Art and Design. Much to the dismay of my drawing teachers, I majored in fashion design so I could enjoy a career that encompasses my love of all things art, music, and fashion. I have been working as a fashion designer and creative director in the fashion industry for 12 years. I have, and continue to design for numerous major clothing manufacturers, selling to retailers such as Forever 21, Nordstrom, and Target. Designing mostly licensed product, I work with everyone from Disney, to Mattel, to Sanrio on a daily basis.
Never losing my passion for fine art and illustration, I have been working on my pop culture inspired paintings as my "second job" for many years. I work with a mixture of mediums including acrylics, spray paint, and oils.
Check out my bubblegum pop inspired adventures here:
https://www.facebook.com/x10lynnart http://instagram.com/kristenlynnart/ http://kristenlynnart.tumblr.com/ https://twitter.com/X10lynn
joined Society6 on October 30, 2012.